Prosentient Systems provides implementation and hosting for the Koha library management system.
The Koha open source application core is the first and most widely used open source Library Management System. We can deliver Koha as a rich hosted solution to your library management needs.
Koha itself provides a full range of Library Management facilities for a special library operation, including:
Online OPAC
Library 2.0 facilities such as tagging, suggestions, book jackets from Amazon & Google
A robust MARC-based cataloguing system that supports Z39.50 (you can fetch your entries from Libraries Australia directly)
A very easy circulation system (including options for self checkout)
Acquisitions, budgeting & serials management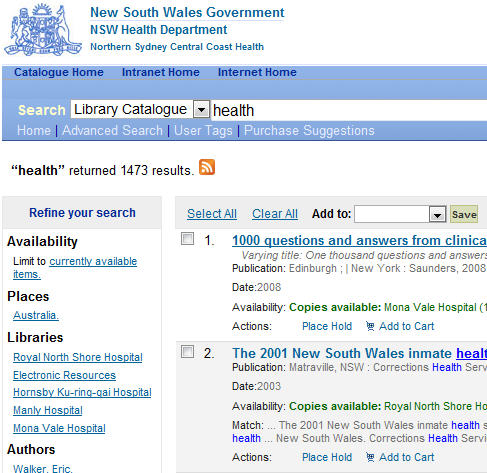 To this we have also added some very nice features such as a journals a-to-z style e-list for your electronic journal collections. We have also built some features for integration with e-library / document library collections.
We can import from MARC format records or other sources (for example from a spreadsheet or a tagged export file). We have developed a range of conversion / import functions that allow us to merge different data sources to avoid duplication of bibliographic items in the resulting catalogue.
We charge on a subscription basis for hosted access. This means that you don't have to make specific arrangements for setting up your own server or managing the software internally. Once-off charges apply to any data conversion that we need to do to bring your existing data into the new catalogue, should this be required.
We have both single library and networked libraries using the service – it is very suitable for both. Together with our document delivery services, Koha represents a rich, scalable, library management system for all sizes of library.
Koha was developed by the Horowhenua Library Trust and made available in Open Source (Koha means "gift"). Note: while Prosentient Systems provides Koha hosting we do not represent the Koha community - rather it is represented by a diverse group of Koha hosting providers and Koha libraries around the world. The community home page for Koha can be found at www.koha-community.org.